What is Medical Malpractice?
A claim for Medical Malpractice arises when a medial professional fails to perform his or her medical duties due to negligence, thereby causing injury to a patient. This can occur when the medical provider does something that shouldn't have been done or fails to do something that should have been done.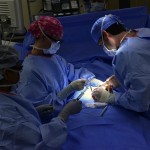 The Laub Firm P.C. offers the focused attention you deserve when you have questions concerning  a medical malpractice claim involving a doctor, nurse or hospital in White Plains, NY, and throughout New York State. We understand how stressful and confusing life can become following a negative incident. We can help you understand your rights and develop a plan for moving forward.
The Laub Firm P.C. is a nationally recognized firm with high standards of ethical conduct in the pursuit of justice. Our experienced attorney and staff diligently represent our clients' interests in obtaining exceptional verdicts and settlements in injury and damage cases. Accidents happen. Nothing and no one is perfect. But many times severe injuries are somebody's fault – the result of another's wrongdoing. If you or someone you love has been injured or harmed, please call us today to arrange a free consultation with a top personal injury attorney.
At The Laub Firm P.C. we represent all kinds of accident victims, including those who have been injured:
By a drug or medication

By a medical device or procedure

For persons who have wrongfully suffered spinal cord injury, paralysis, amputation or death

By product, piece of  medical equipment or device

By the actions of a doctor, hospital, HMO or other medical personnel

Through the intentional or negligent actions of anyone they should have been able to trust

For victims of brain injury or birth injury
You'll appreciate the personalized touches we always strive to give as part of the local representation we offer. We have flexible appointment hours because we understand that busy schedules are a reality of life. Our distinguishing attributes include our:
35 years of trial experience
Martindale-Hubbell rating for ethics and ability
Policy of no fees unless we're successful
We know that you want respect and undivided attention when you're seeking help with understanding your options regarding White Plains, NY, malpractice. Our firm will focus our efforts on helping you feel informed. Contact The Laub Firm P.C. to schedule your appointment to learn important information about how you can act now to protect your rights.
Find out more about Medical Malpractice